ColorNote Notepad Notes
Notepad App – Never Miss a Thing
If you have trouble remembering things and are looking for an app that can help you in creating notes then this notepad app is an ideal one for you. ColorNote Notepad Notes To Do is a useful app which allows you to note down ideas and things you want to remember like shopping lists. It gives you the chance to set reminders for small tasks that you might forget. Moreover, it ensures that any ideas or thoughts that you get while traveling or during your commute don't get lost from your mind. You can write them down in this app as a sticky note and it will remain safe there waiting to be used when you want to follow up on your idea.
ColorNote Notepad Notes To Do has a simple design and layout which makes navigating it an easier proposition for one and all. This notepad features an intuitive user interface too. So, you will have no trouble in using it for jotting down notes and creating to-do lists. The home screen of this app has a + icon located at the top bar. You can tap on it to begin writing a note. There are two formats of notes that you can create. These include the text note and the checklist. You can use the text format when writing down random thoughts or creating memos while the checklist format is for creating shopping lists or to-do lists. Editing both these types of notes is fairly easy and straight-forward.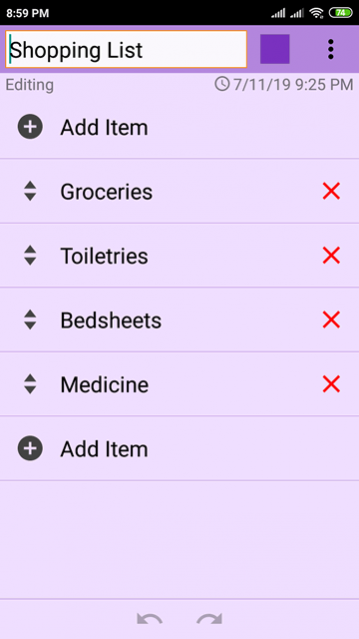 The feature which makes this notepad app stand out from the other notepad apps is that it provides colored notes for you. This means that you can choose different colors for each note or checklist you create. Colored notes are much easier to organize and allow you to categorize them in a much simpler manner. For instance, the notes that are of an urgent nature can be given darker colors while those that can wait a bit can be colored in a lighter shade. Thus, with this color scheme, you can easily identify which of the notes are important and which can be tackled at a later time. Aside from this color-coding, you can set reminders for your notes too. This will ensure that you never forget them.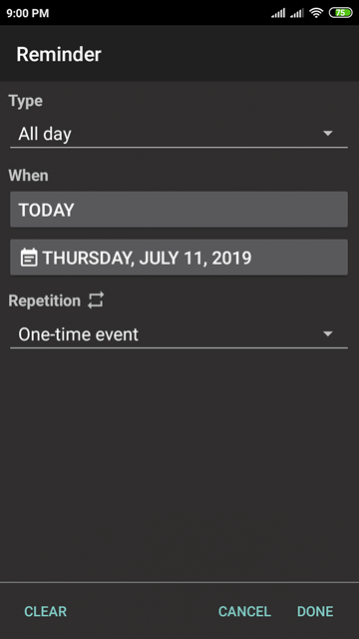 ColorNote Notepad Notes To Do has a Calendar option too. You can find it in the drop-down menu that can be accessed by clicking the button located at the top-left corner of the screen. This Calendar option lets you add notes for specific dates. You can keep a record of your daily activities in this Calendar and utilize it as a journal. This notepad app enables you to edit your notes and check them off when you have completed the tasks you wrote down in them. The notes can be viewed in a number of different ways. Each note gets saved automatically when you close the app. There are various backup options available for safeguarding your notes too.
Features:
Intuitive user interface
Simple design and layout
Colored notes that are easy to organize
Various formats of notes on offer
Lots of ways to view your notes
Make to-do lists and easily edit them
Widget to place the notes on the home screen
Password-protection to keep the notes safe
Backup the notes to your SD card
Option available for online backup
Add reminders to know when a task is due
Check off the notes when you complete the tasks
Conclusion:
ColorNote Notepad Notes To Do is an app which is ideal for people who have a habit of forgetting important things. It offers them the chance to take notes and save their thoughts or for writing down tasks that they want to perform in the form of a to-do list. It is definitely an excellent notepad app to have on your phone.
---
Add a review
Tell us your experience with
ColorNote Notepad Notes
RELATED PROGRAMS
Our Recommendations
---
---
---
---